Saturday 7th of april, 12h. Espai Sant Josep de Ciutadella Antiga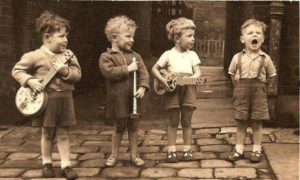 Family educational concert about the history of swing.
Aina Zuazaga – Voice & Storyteller
Marcos Herrada – piano
Marco Valero – doblebass
Guillem Nadal – trumpet and trombone
Between 1h i 1h 15min. Target: Children bettwen 4 & 12 years old
The band that gathers Aina Zuazaga (storyteller and vocals) Marcos Herrada (piano), Guillem Nadal (trumpet and trombone) and Marco Valero (double bass), is not conventional encounter for concerts, but a meeting to tell the stories of jazz to children in an amusing and funny way.They convey passion for music to the youngest people.
Pay after Show