PARTIES | WORKSHOPS | CLANDESTINE DANCE | SCHEDULE |  REGISTRASTION  |  COVID-19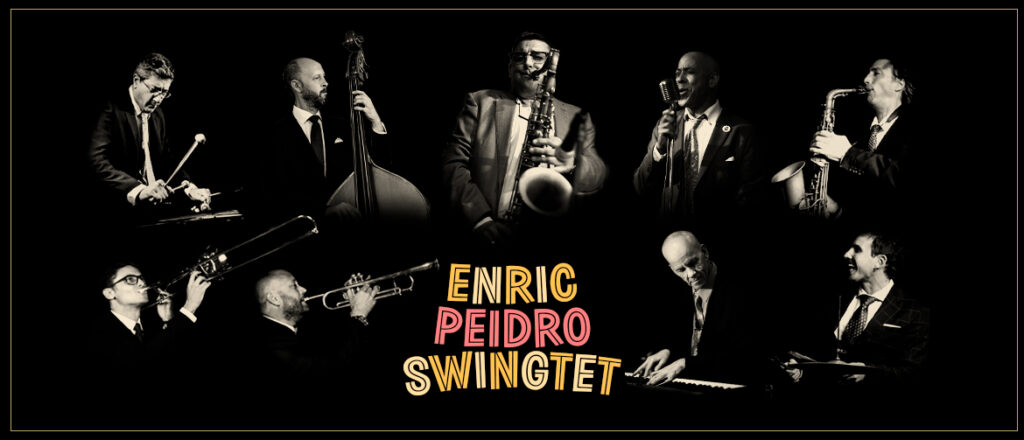 PARTIES

We were longing !!! Two parties, one on Friday and the other on Saturday, are waiting  you for the Menorca Swing Weekend with Enric Peidro Swingtet Special Edition, an amazing nonet with the voice of Randy Greer, and our DJ, the great Marcos Fuente who will not let you stop dancing,
Enric Peidro Swingtet- Special Edition!
Since the Swingtet of saxophonist Enric Peidro began its journey in 2016, the band has maintained not only a relentless level of activity and demand but also a clear vocation to be a constantly evolving group always open involve in new projects such as interacting with related musicians, who, from all over the world have join without hesitation to the ranks of the Swingtet: Australian vocalist Jessie Gordon, American guitarists Jonathan Stout and Glenn Crytzer or the British saxophonist Ray Gelato, among many others, are some of the great musicians who have formed and continue to be part of Peidro's project. Nonet's formation: a dream team where, in addition to the six stable members of the band, the extraordinary American vocalist Randy Greer, the valencian vibraphone player Arturo Serra, joins to the band, no doubt one of the most respected jazz musicians in the whole country – and the excellent alto saxophonist Guillem Ferrer.
The band is presented with new arrangements prepared for this event and nine musicians on stage ready to give their best during the MENORCA SWING WEEKEND, where they come with the healthy intention not only to present this "special edition" of the Swingtet but also, of course , to set the track on fire with its high voltage swing and make all the attendees enjoy it  full.
Enric Peidro Swingtet Special Edition: Enric Peidro – tenor saxophone, Paul Evans – trumpet, Pedro Ortuño – trombone, Guillem Ferrer – alto saxophone, Randy Greer – voice, Arturo Serra – vibraphone, Richard Busiakiewicz – piano, Andrés Lizón – double bass, Simone Zaniol – drums

DJ Marcos Fuente
As a swing enthusiast, since he discovered Lindy Hop, he has been a DJ at all kinds of events, clandestine and jams of various schools and associations in Barcelona. He has also been a DJ at international festivals such as the Barcelona Lindy Exchange, during the first two editions, and the Barcelona Balboa Weekend, on two occasions.
He is currently a resident DJ at the Dio Club (Seven Dance) in Barcelona and you will find him playing in jams and events at the schools where he is a teacher. For him, dancing is a way of communicating, expressing and keeping the body as active as possible with a great deal of fun. You realize it, when he is djing for lindy hoppers with his musical selections that they don't stop dancing. He loves being a DJ !!
Friday 20th & Saturday 21st of May, at 21:30 at Canal Salat Auditorium  CASINO 17 de GENER, Ciutadella de Menorca
---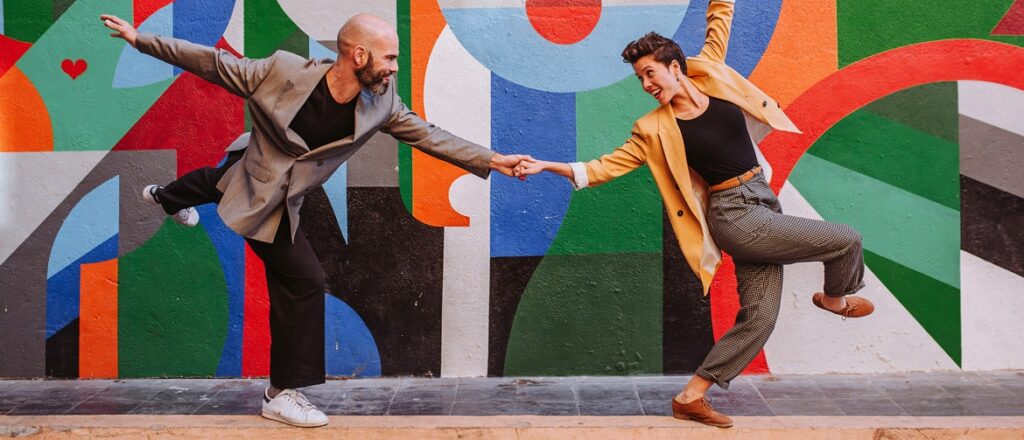 WORKSHOP LINDY HOP SONIA & HECTOR MULTILEVEL*

Sonia and Hector are a professional Lindy Hop (Swing Dancers) couple. Both have been teaching Lindy Hop regularly since 2003 at various dance schools in Barcelona and have been partly responsible for promoting the Lindy Hop boom nationwide. They are now traveling around the world involved in "spreading the word Lindy Hop", venturing into as many exciting projects as possible. Sonia and Hector are ready to show their love and enthusiasm for Lindy Hop through their work in the hope that everyone will enjoy and learn from it.
Hector and Sonia's teaching perspective focuses on the fundamentals of what they find interesting about Lindy Hop; bounce, communication with the partner and the quality of the movement form the basis of their teaching. From their own creative point of view, teaching cool moves or combinations is not the priority, even though they use them to make fun and for students to remember what they have learned during class. Hector and Sonia always try to incorporate their own creativity into teaching, and often show students their own originality and invention in the steps and movements they have developed. They do this to help the student with their own creative journey and inspiration. Experience has shown Hector and Sonia that students enjoy clear examples to explain certain movements.
* For workshop resgistration it is mandatory you have the basic knowledge of Lindy Hop (Minimum 1 year taking lindy hop classes)
The workshops will be a total of 6 hours, divided into two 3-hour sessions, between Saturday 21st and Sunday 22nd of May. Hours: 9:30 to 12:30. Registration must be done with  dance partner. Limited Capacity. Canal Salat Auditorium CASINO 17 de GENER – Ciutadella de Menorca
---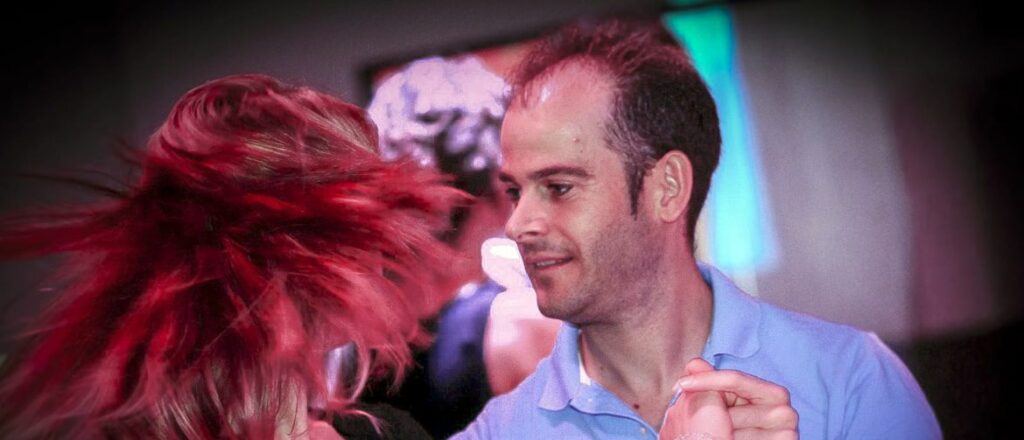 BALBOA TASTER BY MARCOS FUENTE (FREE)
Balboa is a swing dance that originated in Southern California in the 1920's when dance floors became so crowded that dancers invented a dance to swing music that could be danced in place. The movements are short and fast. It is usually danced in a closed position and with fast tempo music. Balboa is named after the Balboa Peninsula in Newport Beach, California, where the dance was invented.
Marcos Fuente discovered swing dancing in 2008 and felt in love with it. He always has been passionate about jazz swing, and even more, when he learned this way of espress himself through music. Charleston, Lindy Hop and Balboa dancing, you can see him at any kind of event enjoying and having fun. He is dance teacher since 2011. He started teaching at the Swing Maníacs school in Barcelona on 2012 and joined to Swingcopats school teachers team, in Sabadell. A decade later, he is teaching at these great schools with the aim to train new dancers.
Friday, May 20th, at 18:00 in Plaça de ses Palmeres – Ciutadella de Menorca
---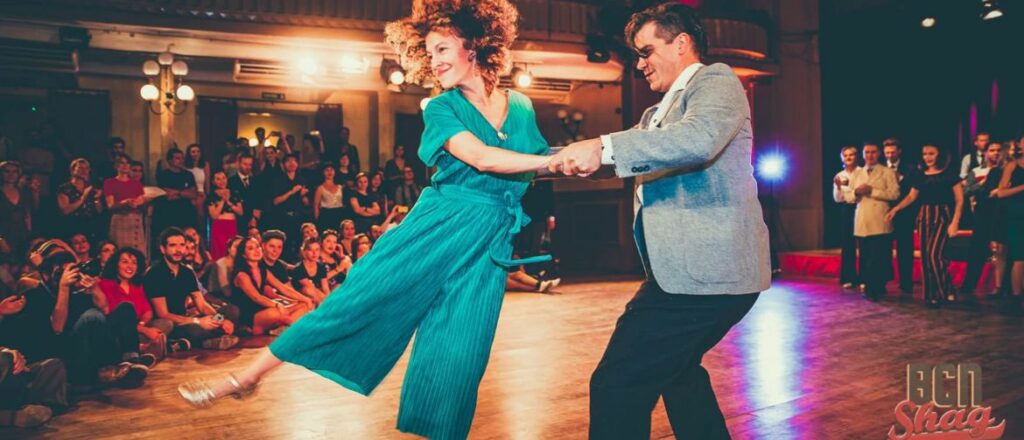 COLLEGIATE SHAG TASTER BY SARA PLANAS & POL PRATS (FREE)
The Collegiate Shag (or "Shag") is a couple dance performed primarily with uptempo swing music and pre-swing jazz (185-250 + beats per minute). It belongs to the swing family of American vernacular dances that emerged in the 1920s and 1930s. Swing dance enthusiasts from around the world still dance the shag.
Sara and Pol have been the first promoters of Collegiate Shag in Spain and organizers of one of the largest Collegiate Shag festivals in the world BCN SHAG FESTIVAL
Pol Prats is the director and founder of Spank The Baby School in Barcelona. He has taught at various festivals in the UK, Sweden, Portugal and Finland, including Stir It, GNSH and the London Swing Festival. He has been a finalist in the Good Night Sweethear and Barswingona Jack and Jill competitions, and a semi-finalist in the Frankie'95 in NY, as well as being a member of the Barcelona Jazz Cats performance group. He has trained in African dance, tap dancing, Alexander technique and has recently become interested in acrobatics and aerial fabrics. He is co-founder of the BCN SHAG FESTIVAL.
Sara Planas started dancing classical ballet when she was 4 years old. Ballet, contemporary, hip hop… dance has always accompanied Sara. It wasn't until 2009 that she fortunately discovered lindy hop and has been a passionate dancer and teacher ever since. Although he has no other profession, he has been spreading lindy hop and shag and acrobatics in other cities in Spain and abroad for the last 4 years. She is the co-founder of the BCN SHAG FESTIVAL.
Saturday 21st May at 16:30 – Plaça de la Catedral – Ciutadella de Menorca
---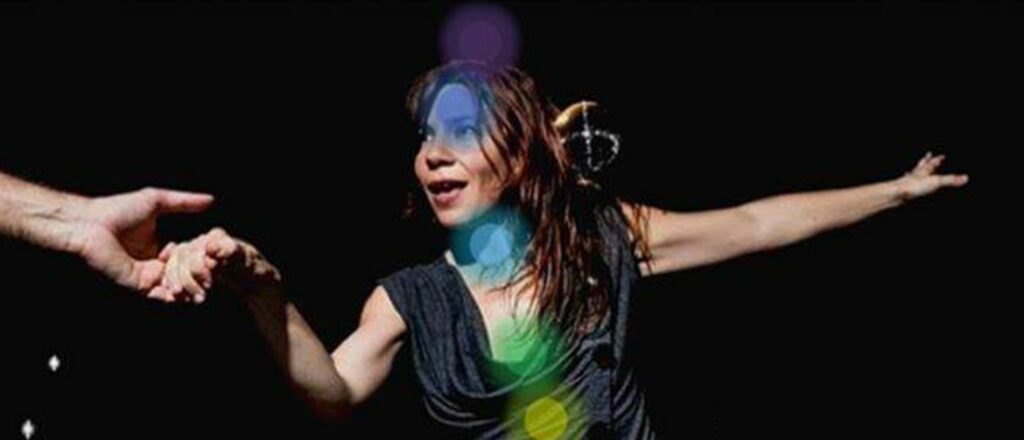 BLUES TASTER BY MURIEL MORENO & QUIM SALLERAS
Blues or Blues Dance was developed along with the music of the same name. Its roots, like all African-American dances, aew the union of the dances of sub-Saharan Africa and the traditional European dances imported during the colonization of America.
The Blues, as a couple dance, needs a strong connection between its components. The current version of Blues Dance is actually an evolution of LindyHop and Jazz and its strength lies in the foot coordination work.
Muriel Moreno
Muriel dances since she was a child and she always use it for her well-being in an intuitive way. She studied Drama arts and worked 13 years as a professional actress. She has been member of several companies ("The Blues Shakers", "The Chicken Wings",…) in contemporary dance, classical dance, flamenco, hip hop, swing and blues. Trained as a Blues teacher by Ferran Puig and Noemí Blue in Barcelona, ​​she dances blues since 2015 and participated in Blues competitions at international festivals, in diferent categories: "Solo Blues", "Couple Blues" and "Trios de Blues".
Quim Salleras
Quim discover, in Barcelona ​​in 2004,  the Jazz music, which listened for years, was able to be dance and in a funny way. From that moment he has tried to combine his profession with his passion for swing. Besides Lindy Hop, he learned Balboa and Blues, with national and international teachers at festivals such as: Barswingona (Barcelona), Gastroswing (Vitoria), Frenchie Balboa (Toulousse), Tiny Balboa (Grenoble ), or Drag the Blues (Barcelona). Quim is an energetic, dynamic and creative dancer, who focuses on connecting between dance partners and music. As a playful person, he loves to practice the "Steal Dance",stealing dance partners in rhythm of music. If you find him in social dance, don't hesitate to play with him.
Sunday 22nd May at 18:30  in the Plaça des Castell de St. Nicolau – Ciutadella de Menorca
---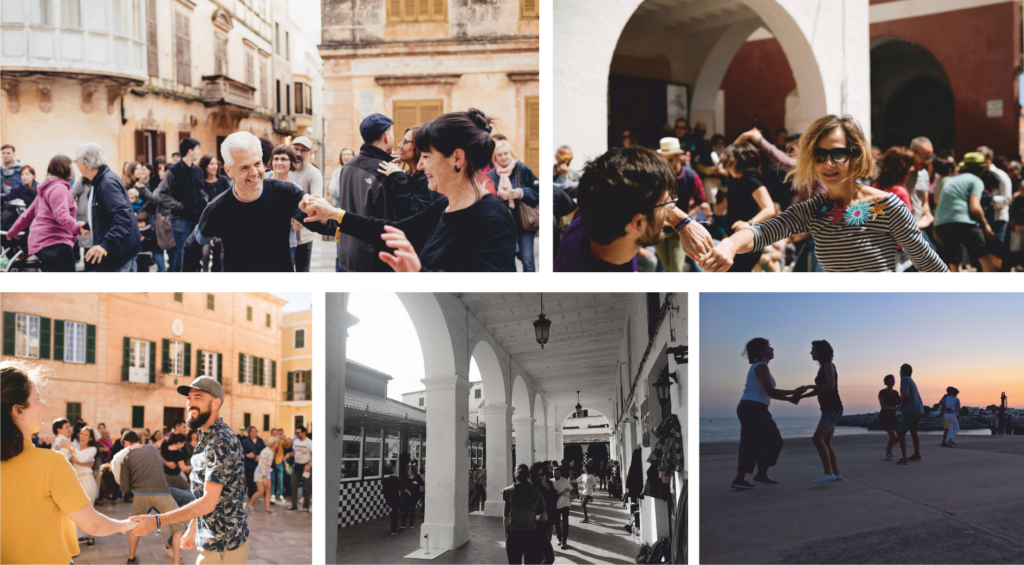 CLANDESTINE DANCING
We miss a lot of dancing, we're really looking forward to dancing in the street again, and sharing those spaces where we love to dance.
Plaça de ses palmeres (Alfons III)
At the entrance to the old town and accompanied by the old mill and the old clock, an ideal place for the first dance of the Weekend.
Friday, May 20th
18:00 – BALBOA TASTER BY FUENTE
19:00 – CLANDESTINE DANCE
Plaça des be (Plaça Vella)
The heart of Ciutadella, a small square in the middle of the medieval Ciutadella, guarded by the arches of the facades that border it. Central crossroads of the historic center where dancing is always a pleasure.
Saturday, May 21st
12:30 – CLANDESTINE DANCE
Cathedral Square (Pius XII)
Protected by the shadow of the monumental Cathedral of Menorca, we can dance with one of the local bands that most excite us, the Big Band of the Mercadal Music School; directed by the master Josep Lluís Pons, these young people play with an inexhaustible energy and an indisputable quality.
Saturday, May 21st
16:30 – SHAG TASTER BY SARA PLANAS &  POL PRATS
18:30 – OPEN AIR DANCE WITH THE MERCADAL BIG BAND
BIG BAND OF MERCADAL MUSIC SCHOOL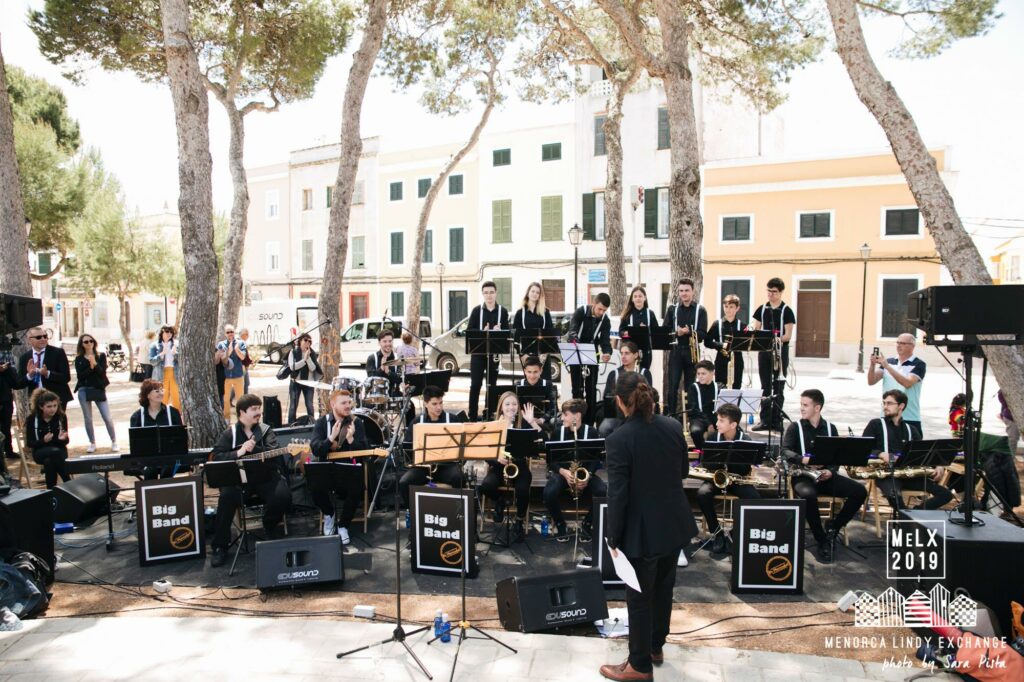 BIG BAND DES MERCACADAL: Carme Riera (alto saxophone), Berta Coll (alto saxophone), Carlos Gómez (alto saxophone), Marçal Orfila (tenor saxophone), Genís Busom (tenor saxophone), Eugeni Riudavets ( baritone saxophone), Bartomeu Mora (trombone), Martí Riudavets (trombone), Pepe Riudavets (trombone), Quim Prieto (trumpet), Fiona Riudavets (trumpet), Ariadna Barber (trumpet), Lluc Rotger (trumpet), Joan Riudavets (trumpet) ), Gibet Villalonga (piano), Laura Triay (piano), Iago Pérez (guitar), Pau Carreras (bass), Oscar Nieto (drums), Roger Vadell (drums), Fonso Barber (drums), Roser Riudavets (vocals), Silvia Peinado (singer), Luis Souto (singer), Josep Luís Pons (direction)
Market Square (Plaça de la Llibertat)
On Sundays, when there is no work in the Market, a special atmosphere surrounds the high arcches of the 18th century. Dancing here is always a pleasure.
Sunday, May 22nd
12:30 – CLANDESTINE DANCE
Plaça des Castell de Sant Nicolau (Almirall Farragut)
A sea view where dancing whith sunset is an unforgettable spectacle.
Sunday, May 22nd
18:30 – BLUES DANCE TASTER BY MURIEL MORENO & QUIM SALLERAS
19:30 – CLANDESTINE DANCE
---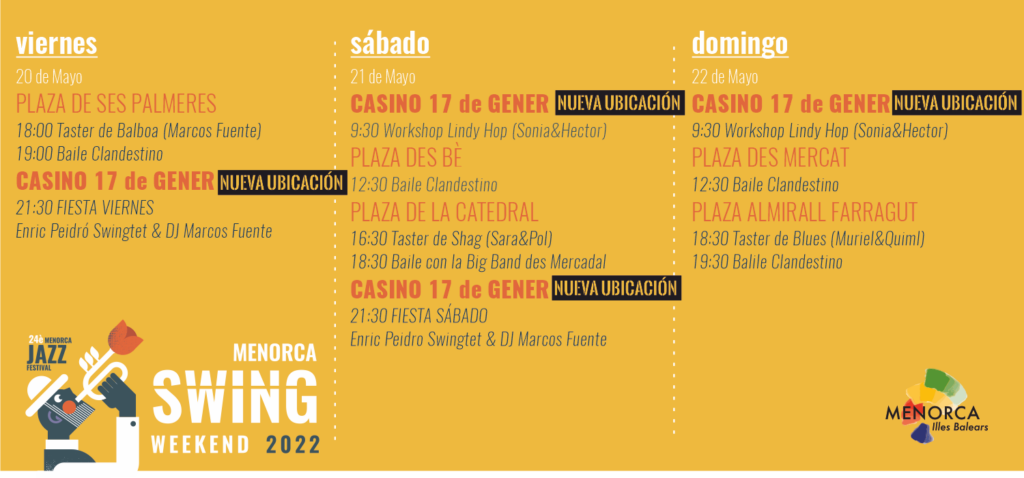 Schedule
Schedule and locations can change due organizational reasons.
---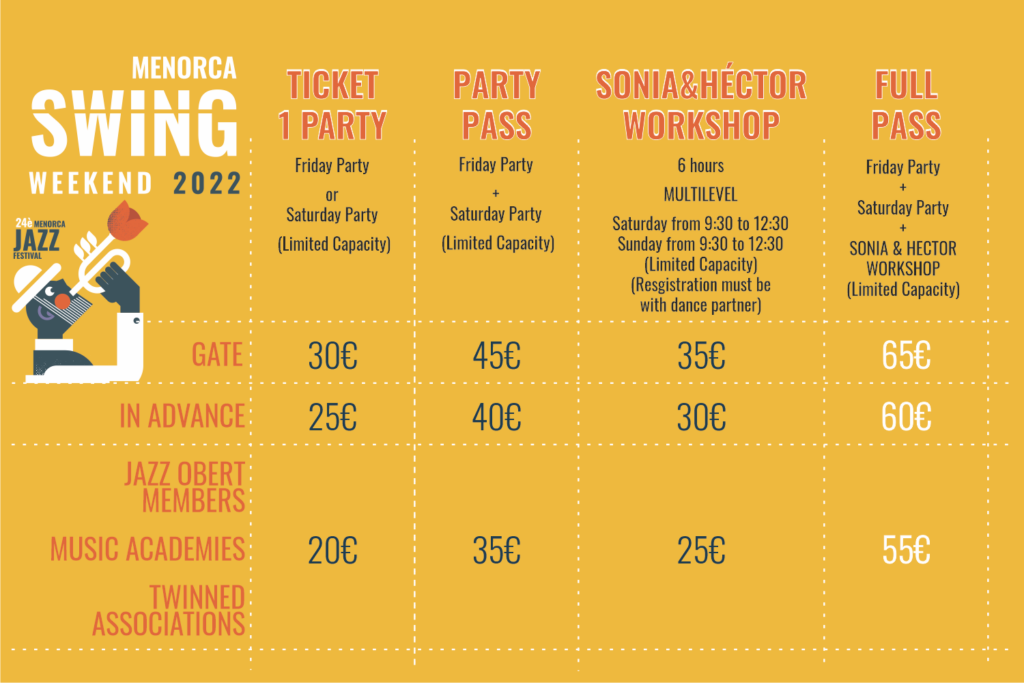 REGISTRATION & PRICES
You can sign up through the CODETICKETS.COM platform.
---
COVID-19 PREVENTION RULES
The following COVID-19 prevention regulations are valid for the contractual relations between the participants of the MENORCA SWING WEEKEND and the JAZZ OBERT Association (organizer of the WEEKEND). By participating in the WEEKEND and by entering any of the spaces where the different activities take place, the participant accepts these rules and with them the possible regulatory changes that could be during the MENORCA SWING WEEKEND.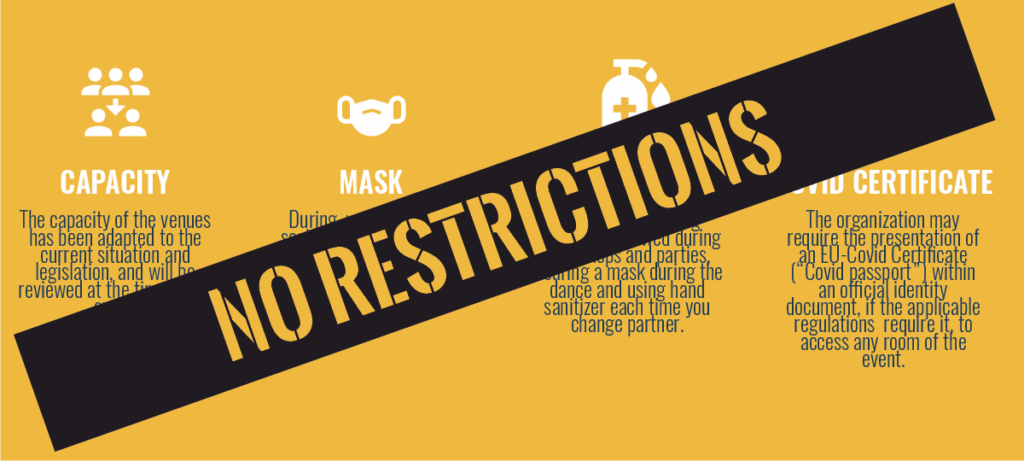 *The use of the mask may only be dispensed with at specific times under the supervision of the WEEKEND organizers, exclusively in acts such as exhibitions by the teaching staff or in the case of the components of the music bands.
**If the requirements change at the time of the WEEKEND, these rules will be adapted accordingly.
***Cancellations due to Covid situation: If the situation or official legislation does not allow the event to take place normally, an attempt will be made to postpone the event and find new dates. If the event cannot be postponed, it will be cancelled, giving participants the option of receiving the registration fee refunded (Except management fees €1.50).